Course Overview
Advanced Placement United States history is designed
to prepare students for intermediate and advanced college courses. The goal is to provide students with the analytical skills and factual knowledge necessary to deal critically with the situations and conflicts in American history. Students will learn to assess historical materials, weigh evidence and interpret events within a historical context. Emphasis will be placed on the students' ability to evaluate the relevance, reliability and importance of historical materials in order to arrive at an informed judgment and be able to present that judgment clearly and persuasively in an essay format.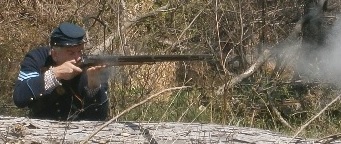 Mr. Brennan shooting at the rebels
What happened today in history?